Vanessa-Mae's Zeta Electric Violin The Jazz Model
The Jazz model is the original Zeta concept on how an electric violin should perform. With improved ergonomic shape and sleek styling, it is the alternative to the traditional violin. The Jazz is highly responsive to all playing styles. By removing the upper bout, thinning the body, and lowering the string action, this instrument facilitates reach to all positions and increased playing speed. Important positional cues such as the headstock heel and third position stop have been retained to ensure familiarity. This violin is made of lighweight basswood, with an ebony fingerboard and tuners. The hex wrench tuners allow the instrument to stay in tune longer than traditional instruments. Fine tuning is handled at the tailpiece. All members of the Quartet Series are MIDI compatible when used with the Zeta Synthony MIDI Controller and Synthesizer. Unleash your creativity with today's modern tools: sequencers, samplers, synthesizers and software programs. The possibilities are limited only by your imagination.




The Quartet Series instruments are available in black, white, red, blue, and purple. Custom finishes include translucent blue, purple, and red, maple vintage burst, cherry maple vintage burst, and custom colors .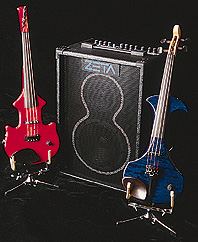 The Synthony is built on the success of the VC-225 MIDI Controller but it includes an internal synthesizer! Access up to 128 instrument sounds including drums, horns, winds, pianos, guitars, basses, and special effects. Volume control between the synthesizer and violin is given entirely to the performer from the Zeta MIDI compatible instrument. A mixing board or volume pedal is no longer needed! The Synthony is ideal for seondary or college string programs that want a fun and easy to use tool to get students excited about playing. It includes a MIDI-out jack to drive other rack mount synthesizers. A front panel headphone jack and synthesizer in/out switch are also included. Other control features of the system include pitch bend, transpose, sensitivity, and dynamics mode. Careful setting of these various commands allows the Synthony to adapt to any playing technique. Virtually instant frequency analysis provides fast and accurate pitch and amplitude information to the synthesizer. It responds to bowing the way you would expect, continuous and smooth. The MFS-40 footswitch allows access to sound changes during live performance. Also available is the VC-225 MIDI Controller which provides the interface between Zeta MIDI insturments and any General MIDI synthesizer. It includes the same control features and instant frequency analysis as the Synthony, but does not include any sounds... perfect for those that already own a synth.

The RetroPak brings unparalleled performance of Zeta's proprietary technology to your own instrument. The RetroPak fits any instrument without the need to alter it in any way. Use the Zeta Synthony or VC-225 to get involved with MIDI technology. RetroPaks consist of a bridge/pickup assembly, tailpiece, beltpack with preamp and output jacks. They are available for the 4-string violin (pictured here,) the 5-string violin, viola, and cello.

To receive a complete color catalog about the full line of Zeta's products or to find an Authorized Zeta Retailer in your area, e-mail to askzeta@zetamusic.com. Be sure to list your name, postal address, phone number, and which product you're primarily interested in. Or, call Zeta at (800) 622-6434 toll free in the U.S., or (510) 261-1702.

All Zeta instruments have a 2-Year Limited Warranty, parts and labor. Return Authorization and Warranty Registration are required for service. Contact the customer service department for details.